Site Waste Management Plans
Site Waste Management Plans are not only a legal requirement on all major constructions since April 2008, they are key to us helping you deal with your Waste Disposal and Recycling needs in line with the latest regulations and environmental considerations.
Site Waste Management Plan – SWMP from our Brent Terrace centre, we offer our clients a comprehensive range of skips, enabling them to separate and deal with their waste requirements.
The recycling of materials and the understanding and awareness of all environmental matters is of great concern, not only to us as a recycling company, but also to the Construction Industry.
We are constantly looking at different methods of recycling, especially on site in order to minimise the waste that is taken to landfill. We are experienced in providing sites with skips that enable them to segregate different waste materials, ensuring they are processed and recycled efficiently.
SWMP, Separating waste at source is key to your recycling success.
As well as handling your site waste management plan requirements, we will provide you with monthly reports showing your skip usage and types of waste handled on your behalf.
Please find below an example SWMP we can provide: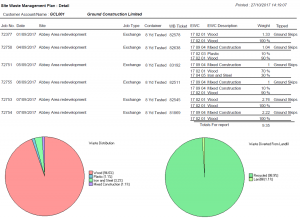 For more information on this service and any other questions regarding our Waste handling facilities, please vist our contact page and get in touch.
Site Waste Management Plans from Ground Skips – efficiently recycling over 94% of all waste.